One of my favorite go to appetizers to order out are the fresh summer rolls.  These are on my "Fodmap safe" list as the rolls are naturally low Fodmap and a good source of fresh vegetables and protein.  I had no idea how easy these were to make until recently and now I'm hooked!  Put this on your list for dinner parties as they are easy to make and can be prepared ahead of time as they can be served cold or room temperature.
This ingredient list below is only a suggestion as you can add whatever is available in your refrigerator.  Let your creativity run wild!  I love packing them with fresh herbs and veggies but I'm sure roasted or pickled vegetables would be so good too.  What is your favorite combination? I would love to hear from you!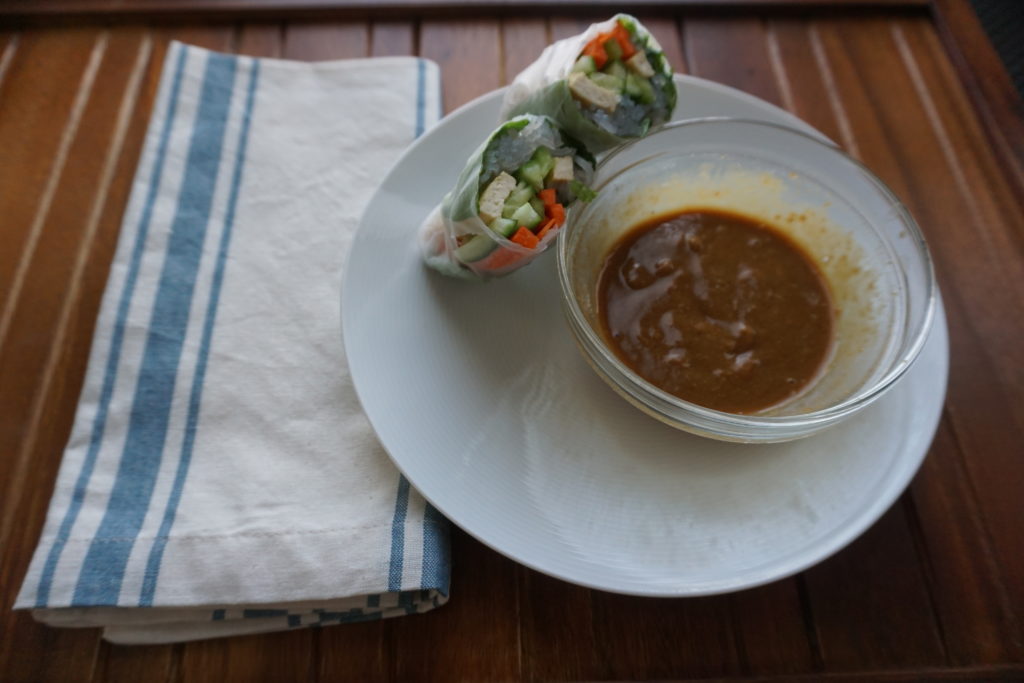 Enjoy!
Ingredients
1 Package of Fresh Spring Roll Wrappers(make sure not to get the ones for frying)

1 Large Carrot, julienned

1 Large Cucumber, julienned

1/2 Large Bell Pepper, julienned

1 Ounce Cooked Vermicelli Noodles

Handful of Lettuce Leaves

Mix of Cilantro, Mint or Basil

Optional-tofu

Dipping Sauce

1/4 Cup Peanut Butter or Nut Butter of your choice

1 Tbsp Gluten Free Hoisin Sauce

2 tsp Tamari

1/2 tsp Chili Sauce
Instructions
1
Using a large bowl filled with hot water, dip individual wrappers for 15-20 seconds to soften and make more pliable. Lay on a flat surface and start adding toppings near the bottom of the spring roll. It's important to not over stuff as it makes it harder to roll.
2
Roll as you would a burrito. Pull the wrapper gently over the filling and start rolling and tucking in corners. Continue with the rest of the wrappers until done.